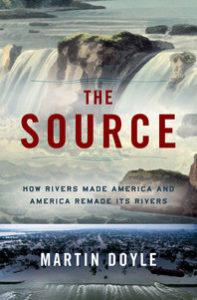 How rivers have shaped American politics, economics, and society from the beginnings of the Republic to today.
In this fresh and powerful work of environmental history, Martin Doyle explores how rivers have often been the source of arguments at the heart of the American experiment—over federalism, taxation, regulation, conservation, and development. Doyle tells the epic story of America and its rivers, from the U.S. Constitution's roots in interstate river navigation, the origins of the Army Corps of Engineers, the discovery of gold in 1848, and the construction of the Hoover Dam and the TVA during the New Deal, to the failure of the levees in Hurricane Katrina. And through encounters with experts all over the country—a Mississippi River tugboat captain, an Erie Canal lock operator, a western rancher fighting for water rights—Doyle reveals how we've dammed, raised, rerouted, channelized, and even "re-meandered" our rivers.
Book Details: Order The Source via Norton or Amazon>
Market-based approaches to environmental conservation have been increasingly prevalent since the early 1990s. The goal of these markets is to reduce environmental harm not by preventing it, but by pricing it. A housing development on land threaded with streams, for example, can divert them into underground pipes if the developer pays to restore streams elsewhere. But does this increasingly common approach actually improve environmental well-being? In Streams of Revenue, Rebecca Lave and Martin Doyle answer this question by analyzing the history, implementation, and environmental outcomes of one of these markets: stream mitigation banking.
Book Details: Order Streams of Revenue via MIT Press
REVIEWS
"His writing, which tacks effortlessly from economics to history to science, is clear and absorbing, whether he is describing intricate credit schemes or the channelizing of rivers. … The Source is an original and thought-provoking exploration of the sinuous course that water has carved through our economic and political landscape."  – Gerard Helferich, Wall Street Journal
"Original [and] poignant… [T]ells the story of how rivers have shaped the United States from its founding."  -Robert Glennon, New York Times Book Review
"In [Doyle's] telling, rivers become a lens on federalism, energy, and conservation–a rolling narrative taking us from George Washington's quest to find a passage from the Atlantic Ocean to the Ohio River, through decades of levee-building, flood control, water wars and much more."  Nature
"The Source is one of those rare books you look up from and see with fresh eyes. …"  – Dan Flores, best-selling author of Coyote America: A Natural and Supernatural History
"… the result is a penetrating and gracefully written portrait of Americans' restless relationship with their sublimely beautiful continent."  – William deBuys, author of The Last Unicorn: A Search for One of Earth's Rarest Creatures
"Brilliantly conceived, The Source is a unique synthesis that recasts American history and flows with the power of unexpected insight."  – David R. Montgomery, author of Growing A Revolution
"Just like its topic, The Source flows magnificently from end to end, carving out a story that spans a continent and several centuries. …."  – Michael E. Webber, author of Thirst for Power
"Move over Cadillac Desert and Last Oasis; a new classic on American rivers has arrived…."
– James Salzman, author of Drinking Water: A History
"A vigorous look at American history through the nation's waterways. . . . Doyle speaks well to issues that are as pressing today as in the first years of the republic."
– Kirkus Reviews
"Readers interested in everything from American history to business, engineering, and environmental concerns, and canoeing will find Doyle's work absorbing and educational."
– Booklist
REVIEWS OF STREAMS OF REVENUE 
"Ripping open the ever-expanding black box of environmental markets, mitigation banking, and restoration, Lave and Doyle educate and entertain. Revealing the convoluted process of market-based attempts to protect nature, this is a must-read for those who love or study the environment – especially rivers and streams." Margaret Palmer, Univ of Maryland
"Lave and Doyle unravel the complex mitigation paradigm and bring us to a critical choice, a fork in the road. The path we choose may very well determine the fate of our rivers." Peter Skidmore, Walton Family Foundation